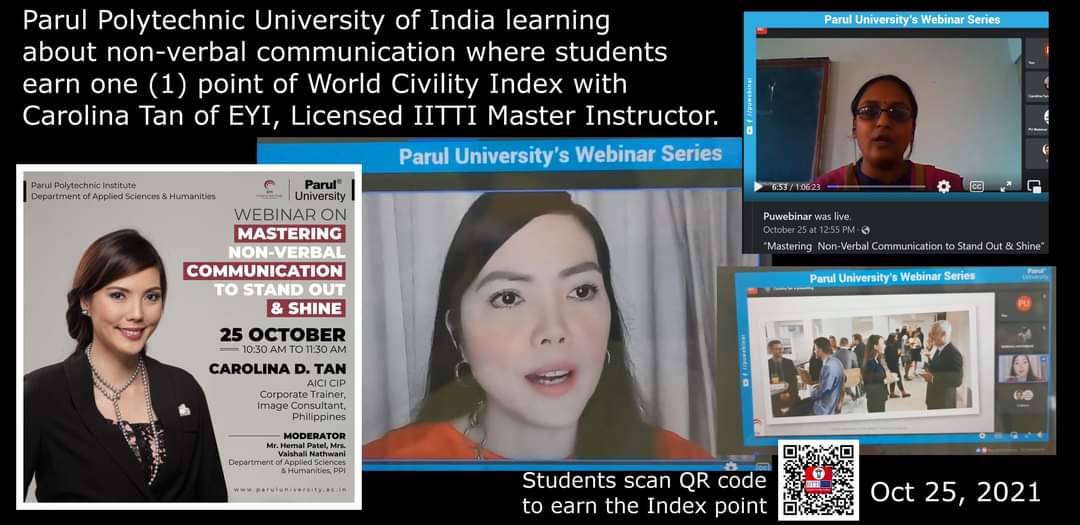 Post of Patrick Chun, IITTI Executive Director (23 November 2021)
***
Carolina Tan, Licensed IITTI Master Instructor and AICI CIP, delivering soft skills training about non-verbal communication to Parul Polytechnic University of India.
Students earn one (1) World Civility Index point.
What good is this World Civility Index?
It allows a university student to stand out when looking for a job.
Many students frequently overlook the importance of people skills (aka soft skills), and the World Civility Index is an accumulation of soft skills cultivation over a long period of time. So it represents perseverance, patience, and vision.
Qualities that is intensely sought-after by employers everywhere.
Thank you Carolina for leading the way.
"Let this world be no longer measured just by money, but also by your refinement!"
More at IITTI World Civility Index page:
   https://www.facebook.com/IITTIorg/

#IITTI
#WorldCivilityIndex
#SoftSkillsMeasurement