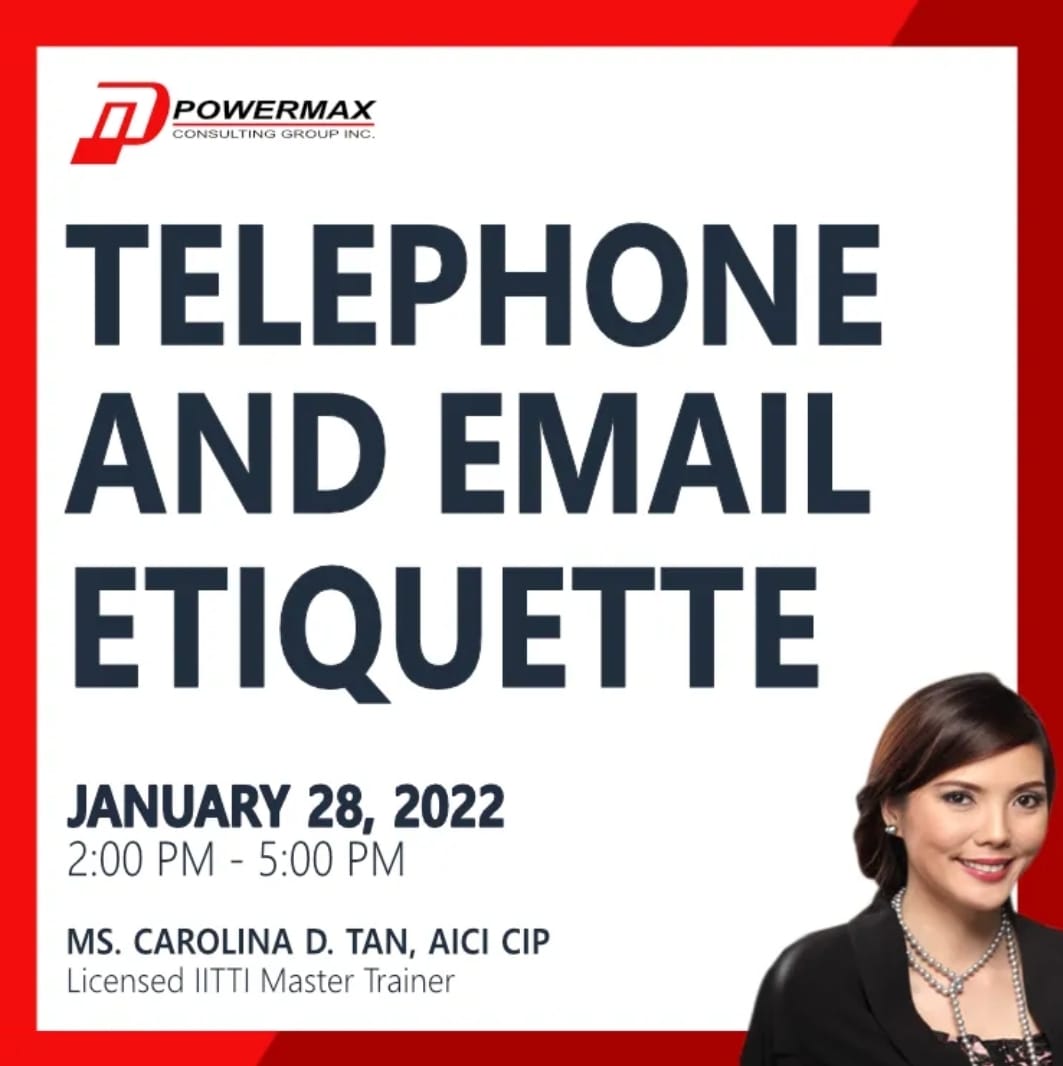 Our public webinar happened on a Friday afternoon. Happy to meet our new batch of attendees this 2022. Thank you #PowermaxConsultingPH!
***
T͟E͟L͟E͟P͟H͟O͟N͟E͟ ͟A͟N͟D͟ ͟E͟M͟A͟I͟L͟ ͟E͟T͟I͟Q͟U͟E͟T͟T͟E͟ January 28, 2021 | 2:00pm – 5:00pmFeaturing: Ms. Carolina D. Tan Licensed IITTI Master TrainerTELEPHONE ETIQUETTE refers to the way you use manners & tact to define yourself and the company you are standing for. How you communicate on the phone when people do not see you reflects on your professional image, and that in turn affects the competence of your organization. With proper training, you can be assured that information flows smoothly and precisely as it should be. EMAIL ETIQUETTE refers to the principles of behavior that one should use when writing or answering email messages. It is also known as the code of conduct for electronic communication and this depends greatly upon to whom we are writing to – friends & relatives, partners, customers, superior or subordinates. Good email etiquette reflects well on us, improves our public perception and persona plus increases the chance of a prompt and comprehensive response.
For more details, please click herehttps://powermax.ph/product/telephone-and-email-etiquette-2/You can also visitOur website www.powermax.phOur FB Page: https://www.facebook.com/PowermaxPH/
Or call Lulie at 8470-1055 or 0917-3057276Take advantage of the Early Bird Promo. Please register early.