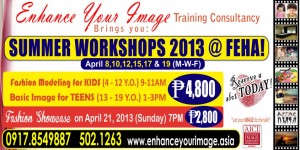 Enhance Your Image Training Consultancy brings you:
SUMMER WORKSHOPS 2013!
April 8, 10, 12, 15, 17 & 19 (M-W-F)
Fashion Modelling for Kids (4 – 12 y.o) 9 – 11 am. COST: Php 4,800
1. FASHION MODELING FOR KIDS
Welcome to the World of Modeling. Models are not born, they are made. Do you have what it takes to have that "X-Factor"? Can you stand out from competition? Make this your starting point towards a color-ful journey in life. This program is designed for kids (Boys & Girls) from ages 4—12 years old wanting to know what modeling is all about, those willing to learn the techniques to make it in the industry, or simply those who want to try it out as a hobby.
Modeling Lecture
Visual Poise 1
Photo Lecture
Runway Techniques 1
Runway Techniques 2
Rehearsal for Fashion Show
Basic Image for Teens (13 – 19 y.o) 1 – 3 pm. COST: Php 4,800
2. BASIC IMAGE FOR TEENS
The program for Teens (Males & Females) 13—19 years old designed to enhance their personal image & boost confidence level. This Basic Image program is aimed at constructively reminding teens of the importance of one's appearance, behavior and communications through positive inputs, interactions & activities. Improvement will be encouraged further by adding practical scenarios and group sessions that are relevant to the new knowledge learned. Mindset and lifestyle adaptation will be enhanced for a fuller potential.
Creative Play
Personal Growth
Speech
Body Language
Apparel
Photo Posing
 Fashion Showcase on April 21, 2013 (Sunday) 7pm. COST: Php 2,800
3. FASHION SHOWCASE
This is the Culminating Group Activity of "SUMMER WORKSHOPS 2013 @ FEHA!". All participants will apply and put to test the various learnings from Body Language, Speech, Photo Posing & Modeling integration via a live show presentation.
Reserve a slot today!
Call 0917 854 9887; 502 1263