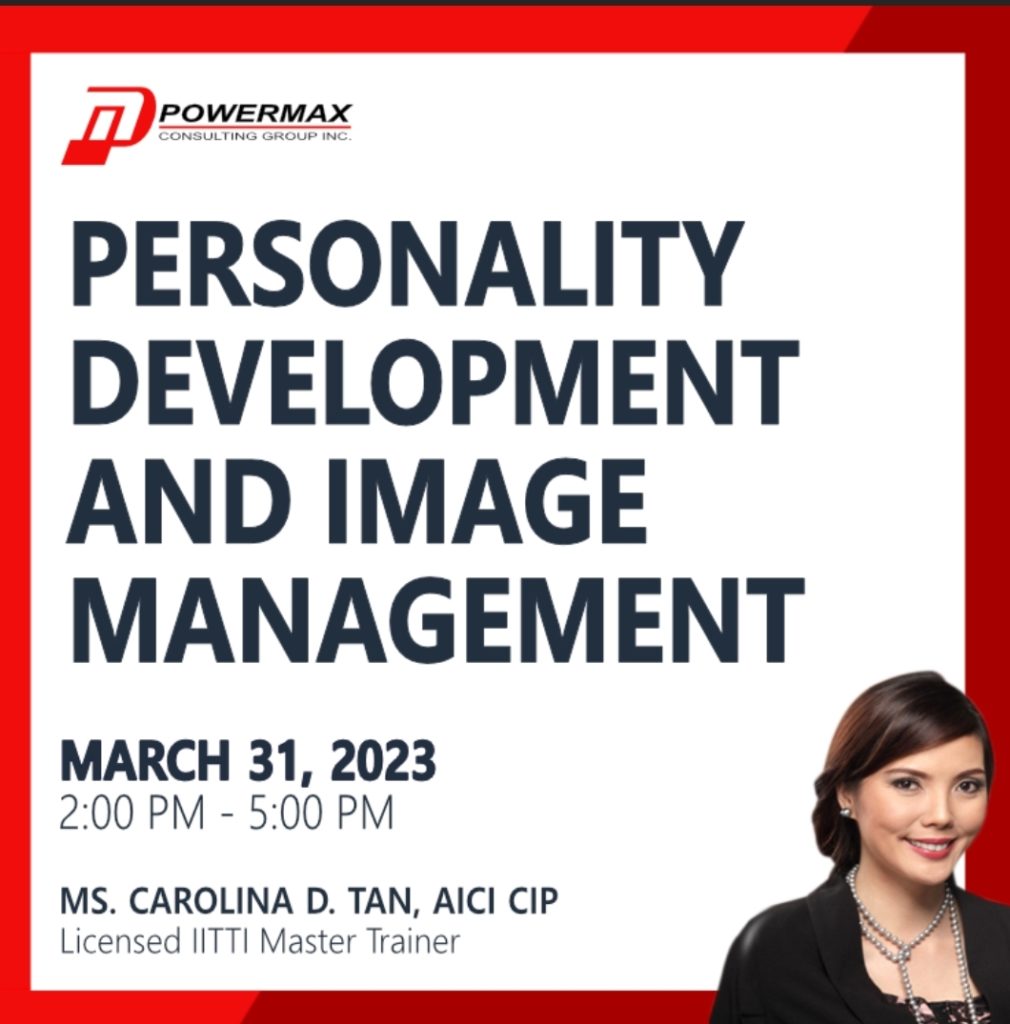 Would you like to utilize the power of image as a tool to leverage yourself & your company brand? Would you like to increase your self-confidence, impress people & gain respect in the workplace through personality development?
TODAY is your moment as we offer this public webinar designed just for Y-O-U!
Have you ever wondered why some people move up the corporate ladder quickly, while others lag behind or are passed over for promotions? Or why do certain individuals do so well in sales? Yes, your hard skills, inborn talent, and social skills are major factors; but IMAGE MANAGEMENT also performs a major role. As ambassadors of the company, it's up to you to reinforce this image by presenting yourself in a way that is consistent with the company brand.
PERSONALITY DEVELOPMENT plays an important role in developing not only your outer but also your inner self. As human beings, we are social animals. We all need people around and proper training will help us gain recognition and acceptance from society as well as others. Personality development is essential in an individual's professional & personal life. It makes a person disciplined, punctual, and adaptable plus a most valuable asset in his/ her company or organization. Creating a positive first impression is therefore critical for being successful and respected as a professional.
"Life is a first impression. You get one shot at it. Make it everlasting."
– J. R. Rim
"PERSONALITY DEVELOPMENT & IMAGE MANAGEMENT" is a must-take! The Top 3 reasons:
1. You are best equipped to represent yourself, the company you're working for, and your overall brand with prominence.
You are able to embody & project a magnetic image that others will be drawn to.
You are able to achieve harmony in your message and increase your performance capability.
LEARNING OUTCOMES
To understand the role of image management in the workplace
To reap the benefits of a positive business status for men & women
To embrace the importance of respectability in one's presence
To create an authentic, appropriate & attractive personal brand
To level up on your professional role that creates confidence, credibility & capability
To be mindful of the personality traits that could derail your career
To establish a strong professional appearance through proper dressing & grooming
To be able to demonstrate concrete examples for strengthening executive impressions plus sealing your unique image
Develop 3 game plans to transition participants from mediocre to magnificent!
"Your IMAGE is more than your appearance. So much of what you do & say contributes to the impression you make." – AICI
COURSE OUTLINE:
Module 1. INTRODUCTION
– Welcome Participants
– Course Overview
– Learning Outcomes
Module 2. SIGNIFICANCE OF IMAGE MANAGEMENT
– How We See Ourselves vs. How the World Sees Us
– Using the 7 – 38 – 55 Rule for Maximum Gain
– Cultivating Self-Worth that Opens Doors
Module 3. POLISHED IMAGE AT WORK
– Benefits of a professional business image
– The 3 key elements to establish your remarkable presence
– Your reputation precedes you
Module 4. CONFIDENT, CREDIBLE & CAPABLE PERSONALITY
– The Magic of Charisma: Personal Touch of Leadership
– Would You Rather be Charming or Magnetic?
– Traits You Can Master for a Winning Personality
Module 5. IMAGE MAKER WITH THE RIGHT WARDROBE & GROOMING
– Errors for Business & Social Interactions
– Hygiene in the Workplace is a Plus to One's Professional Appearance
– Image Breakers to Avoid
Module 6. AUTHENTIC, APPROPRIATE & ATTRACTIVE DISPOSITION
– Turn-Off Traits to Stay Away From
– Tips for a Winning Personality Through ABC's (Appearance, Behavior, Communication)
– Increase Your Likeability Factor
Module 7. YOUR PERSONAL GAME PLAN (3)
TO REGISTER: https://powermaxph.com/product/personality-development-and-image-management/