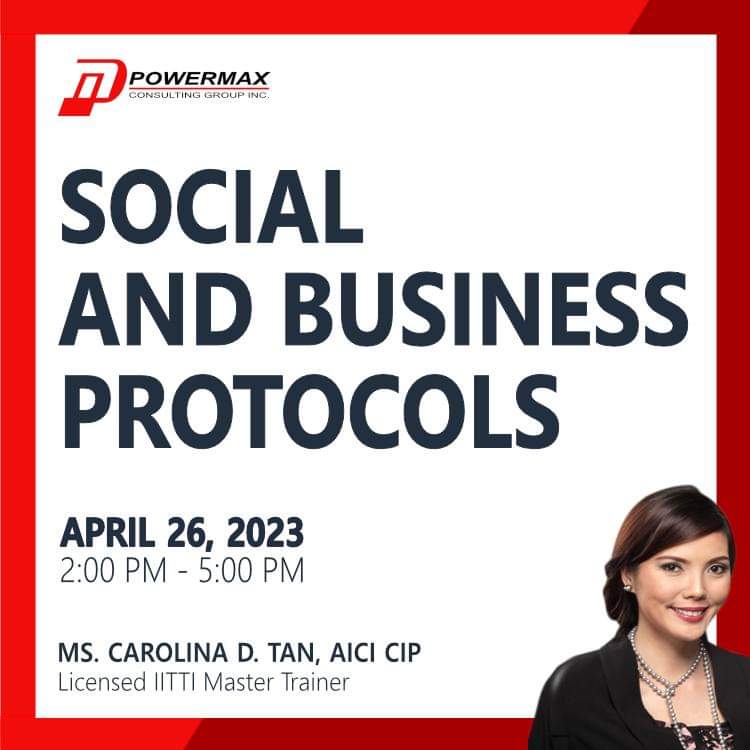 SOCIAL AND BUSINESS PROTOCOLS
April 26, 2023 | 2:00pm – 5:00pm
Featuring: Ms. Carolina D. Tan
Licensed IITTI Master Trainer
PROGRAM OVERVIEW
Would you like to create lasting impressions and build lifelong relationships that establish trust & reliance?
Would you like to initiate a mutually respectful atmosphere, improve communication at the workplace and advance your career to the next level?
TODAY we are delighted to offer this public webinar mapped out just for Y-O-U!
Do you find attending events and conferences intimidating and sometimes a bit overwhelming? Don't worry as you are not alone! SOCIAL PROTOCOLS will teach you how to confidently navigate different kinds of social situations, including your interactions with family, friends, co-workers or even strangers. On the other hand, BUSINESS PROTOCOLS is a set of professional rules that govern the way people interact with one another in trade settings. This is a valuable skill set that will make you stand out from others, enhance your chances of success and help you land and stay in that dream job
LEARNING OUTCOMES
– To have a clear understanding of social & business etiquette and why it matters
– Understand the role of civility in a progressive society
– To learn proper introductions and greetings
– To embrace respect, restraint and responsibility in our dealings with others
– To be comfortable with our place settings and dine with ease
– Be mindful of the 5 Types of Business Etiquette
– Professional protocol rules you should never break
– Apply techniques that will advance your career and professional development
– Develop 3 game plans to transition attendees from coarse to commendable!
"When two people come together and their behavior affects one another, you have etiquette."

Emily Post
COURSE OUTLINE
Module 1. INTRODUCTION
– Welcome Participants
– Course Overview
– Learning Outcomes
Module 2. DISTINCTION BETWEEN SOCIAL & BUSINESS PROTOCOL
– Origin & General Differences
– Behavior: Get Ahead or Be Left Behind
– When Using Technology
Module 3. GREETINGS, INTRODUCTIONS & MORE
– When You are Doing the Introductions vs. The One Being Introduced
– Handshaking: Bringing Back the Human Touch
– When Your Memory Fails You
Module 4. MINDING YOUR MANNERS
– Place Settings: Guide to Elegance
– Dining With Ease: Continental, American or Both
– Making Memories at Mealtime: Staying Connected
Module 5. FORMALITIES & DECORUM
– The 5 Types of Business Etiquette
– The Rules You Never Break: Avoiding Awkward Situations
– Tactics to Advance Your Career
Module 6. YOUR PERSONAL GAME PLAN (3)
FOR MORE DETAILS, PLEASE CLICK HERE:
https://powermaxph.com/product/social-and-business-protocols/
YOU CAN ALSO VISIT
Our website www.powermaxph.com
Our FB Page: https://www.facebook.com/PowermaxPH/
Or 📞 CALL Lulie at 8470-1055 or 0917-3057276
Take advantage of the Early Bird Promo or Group Rate